Virgin Voyages is an irresistible Adult-by-Design experience at sea where tranquillity meets curiosity. Virgin Voyages currently has four ships in service sailing to destinations across the globe from Miami to Melbourne. Every Virgin Voyages ship from Scarlet Lady to Resilient Lady, is strictly adults-only and is designed to reflect a yacht's sleek luxury. Featuring spaces by some of the top names in contemporary design, these ships will be a sanctuary at sea for 18+ travellers. Resilient Lady will be sailing down under for the upcoming summer season. Boasting a wide range of bucket-list itineraries departing from Sydney, Melbourne, and Auckland, this is the best opportunity to discover the excellence of Virgin Voyages. Putting a twist on luxury, which the company refers to as Rebellious Luxe, Virgin Voyages will offer incredible value for its Sailors with dining in 20+ world-class eateries, group fitness classes, soft drinks, gratuities, Wi-Fi and many more surprises included in the voyage fare.
Come See How Richard Branson Does Cruises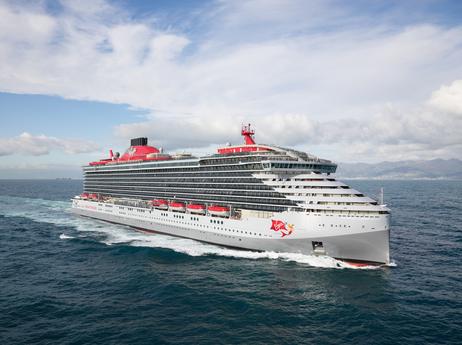 SCARLET LADY
The flagship and jewel of the fleet, Scarlet Lady is designed to combine the excitement that stems from being on the open ocean with everything you love from your favourite hotels and venues on land.  Accommodating only 2,770 sailors (that's you!), Scarlet Lady is considered a mid-sized ship, but every inch is packed with pizzazz.  Tempt your taste buds at one of over 20 different eateries (and drink-eries), none of which carry a cover charge; boost your Vitamin Sea with rejuvenation and transformation experiences; chill out next to one of the many luxurious pools; or why not change your look – there's a blow dry bar and tattoo parlour on board! And don't even get us started on the rooms and suites – to say you're living like a rock star would be an understatement.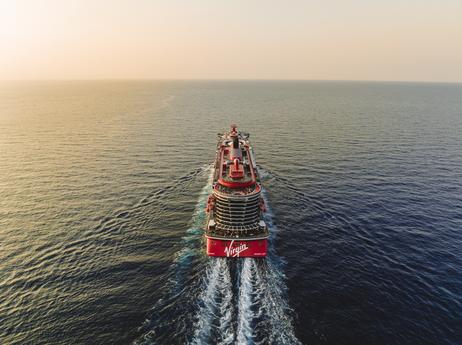 RESILIENT LADY
As beautiful as you can imagine, Resilient Lady aims to impress with its magnificent selection of fantastic activities onboard. Perfectly paired with breathtaking itineraries across the Mediterranean and Australia, Resilient Lady is an absolute must for any explorer wanting to experience the pinnacle of a Virgin Voyages adventure. Offering a selection of close-to-home cruises departing from Sydney, Melbourne, and Auckland, this is the best chance for you to sail aboard Virgin Voyages. Providing a remarkable array of cabins and RockStar Quarters, each intricately designed with unmatched innovations, your onboard experience will be truly magical. What's more, with 20+ foodie-approved dining venues across the ship from the Mexican-inspired Pink Agave to the bouncing Korean BBQ Gunbae, you'll have a treasure trove of delectable dishes to taste at every meal.
Welcome to Voyage Store, brought to you by Travel The World! Discover a world of benefits with us:
Expert advice from Aussie-based Virgin Voyages specialists.
Earn a generous 16% commission on voyage fares.
Bookings that help reach head-office targets.
Seamless net payment directly to Travel The World.
Reach us effortlessly at our toll-free number: 1300 732 300, open from 9 am to 5 pm AEST.
Feel free to send your booking inquiry to us at reservations@voyagestore.com.au
Plus, as First Mates, you can extend these advantages to your clients through our Match and Sea More program. Whether your clients are seasoned cruisers or newcomers, they can match their loyalty status with Virgin Voyages' loyalty program, The Sailing Club. Enrol in select rewards programs and enjoy exclusive perks on Resilient Lady this summer, including priority boarding, exclusive cocktail parties, Bar Tab, or even laundry services. Bon voyage!