Windstar's small cruise ships and personalised approach bring guests closer to each destination and every port, so they can witness the world from new perspectives. Intimate moments away from the crowds and immersion in local and exotic cultures are just some of the things guests can come to expect while sailing onboard a cruise ship where surprise and delight are constant companions.  Enhanced by their incredible personal service, Windstar cruises are 180 degrees from ordinary, and an experience where all five senses are indulged and wonder is awakened.
Health and safety are of the utmost importance for Windstar, and they have adopted a layered approach to cleaning and sanitising of all their ships. This includes an increased amount of cleaning of public spaces and high touch points with electrostatic sprayers using hospital-grade, EPA-approved sanitising solutions, as well as hospital-grade HEPA filters and UV-C light to disinfect the air. Additional medical staff will also be on board, and crew are required to wear masks and receive daily health screenings. Functions and other events on board will be conducted without handshakes by their officers and crew. However, be on the lookout for their 'Windstar Wave". Windstar hopes that its guests adopt strong hygiene practices while on a Windstar cruise to keep themselves and the community protected.
180 Degrees from Ordinary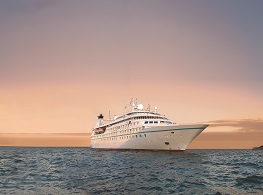 ALL SUITE STAR PLUS YACHTS
Accommodating 312 guests each, Windstar's all-suite star plus yachts, Star Pride, Star Breeze and Star Legend are large enough to pamper and entertain you, yet small enough to tuck in into delightful tiny harbours and hidden coves that others can't reach. They feature spacious suites, lush amenities, sumptuous dining and expansive ocean views everywhere you look. A rare combination of elegance and unassuming luxury, these power yachts create an experience that's truly one-of-a-kind.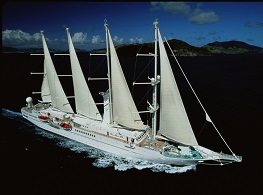 WIND STAR AND WIND SPIRIT
The 148 passenger Wind Star and Wind Spirit give guests the opportunity to experience the essence of small ship sailing. These 4-masted beauties feature wide open teak decks, an unusual feature for such a small vessel, and plenty of nooks for private moments, making it feel like you're on your own private veranda.  Yet it's the small size that creates an intimacy that allows for guests to really connect with others and share their journey with like-minded, savvy travellers. These ships were made to pull into secret lagoons and dock at secluded beaches.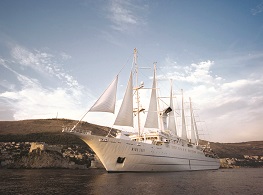 WIND SURF
Windstar's flagship, Wind Surf, is clearly recognisable by her tall, billowing sails as she glides majestically into port.  Accommodating 342 guests, Wind Surf has been crowned the world's largest sailing vessel, yet is still small enough to dock in the world's smallest ports.  Her gleaming decks and sparkling sails invite guests to discover a world of gracious indulgence. From sumptuous staterooms and suites to the cozy sophistication of the Yacht Club living room and Library, every detail invites closer examination.